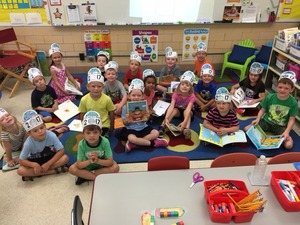 CINCINNATI, OH—In 2016, Deer Park School District officials set out to meet a need in the local community. After extensive conversations with parents and Board of Education members, the district came to the conclusion to offer all-day kindergarten to its students.
Just a year later, that dream is a reality. When Holmes Elementary started school on August 14, new faces littered the halls for the whole day. All-day kindergarten is off and running for the 2017-18 school year.
"All day kindergarten is off to a great start," Holmes Elementary Principal Sonny Tudor said. "We currently have 100 students in 4 classrooms. The first two weeks were all about schedule and routines, but now we're ready to start letters and sounds."
Routines were an important task in the first couple of weeks. After the new students mastered those skills, it was time to move on to something different.
"The students are enjoying the opportunity to eat lunch at school and love the daily specials," kindergarten teacher Kristen Huesman said. "The full day program gives us more time to spend on all academic areas. It also lets the students have time to play together during recess to form friendships and improve their social skills."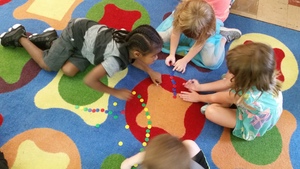 The full day atmosphere is not just about a need for parents. The extended time period allows for a much more in-depth experience for the children, according to kindergarten teacher Brenda Livingston.
"I think the best part of all-day Kindergarten is fact that students have the time to explore," she said. "If a question comes up we actually have the time to talk about it, look for answers and share our thoughts. Exploration also happens with center time and our social studies lessons. No longer do we feel rushed to complete tasks."
For teachers, aides, and even principals however, the wonders of enjoying a full day with the students comes at a humorous price.
"Did you know that the average 5 year old asks 437 questions in a day," Tudor quipped. "We currently have 25 students in each of our kindergarten classes. That means our teachers and aides are answering over 10,000 questions every day. No wonder they're so tired at the end of the day!"