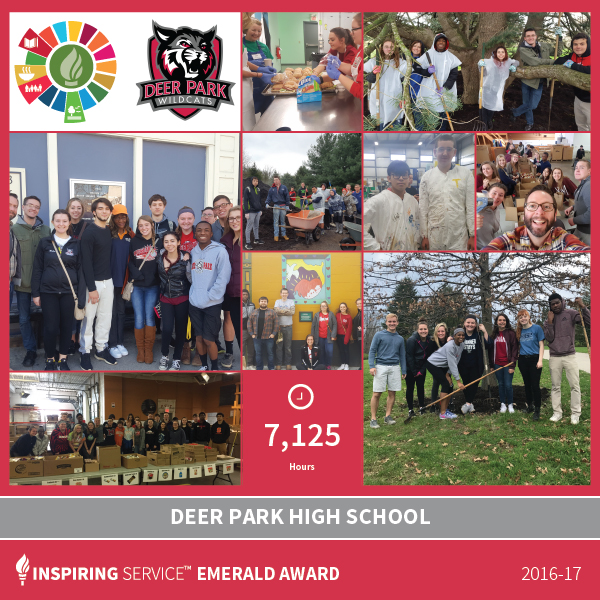 As part of an award program with Inspiring Service, Deer Park High School has been honored as a 2016-17 Inspiring Service Emerald Award recipient.
The award goes to groups and schools which have accumulated 4,250 or more hours of service, valued at $100,130. As part of the process, applicants must submit 20 or more photos showing activities, projects and events, along with the collection of all of the service hours.

At Deer Park High School, the bulk of the hours were completed during a week-long project, Senior Serve, in which members of the senior class visit organizations across the city to perform service.

Activities included trips to St. Vincent de Paul, the Freestore Foodbank, Our Daily Bread, Frech Park and Tender Mercies, among several others to both offer volunteer help and also reflect on service and how to become advocates in the community.
Emerald Award winner @DeerParkHS seniors dedicated an entire week to giving back in their community & experienced the value of service!
About INSPIRING SERVICE: Inspiring Service enables people and organizations by providing them with a modern, mobile-optimized technological platform, which hosts a registry of organizations that offer volunteer opportunities and the types of opportunities each offers.

Through their consistent and attractive presentation, Inspiring Service enables people and organizations to learn more about organizations offering opportunities and connects them to those that align with their values, interests, and passions and the needs of their community.