CINCINNATI, Ohio - On Friday morning, Deer Park Jr./Sr. High School Special Education teacher Greg Tabar joined educators from all around Hamilton County to be honored as some of the best teachers in the Cincinnati Area.
"It's humbling," Tabar said. "There are so many genuine educators throughout our district. To receive this award is an honor because there are so many staff members that truly deserve it. When you work in a building and you are able to see the love the staff members pour out, that the district chose me is an honor and a privilege."
Tabar was selected among a group of 16 well-deserving nominees from Deer Park Schools to represent the district at the banquet.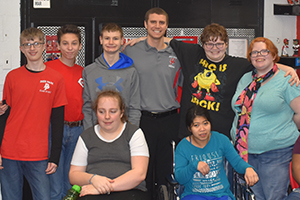 "Our staff at Deer Park is second to none," Superintendent Jay Phillips said. "We have many wonderful staff members who are the epitome of excellence on a daily basis. Greg is one of those staff members. He is a model of character, high morals and values, and has a passion for helping people."
A four-year veteran of the district, Tabar was honored alongside 24 of his peers in Hamilton County from school districts spanning the entire county.
"I definitely want to thank the administrators—Mr. Jay Phillips, Mr. Dave Bergan, my supervisor Mrs. Patty Hadden, and Principal Dr. Stace Orso," Tabar said. "They show me continuous support in my classroom and in providing any resources and support that we might need."
Tabar said he had one final group he had to acknowledge in receiving this prestigious award.
"I also have to thank the students in my classroom," he said. "They challenge me each day in a positive way. They make me grow as a person. I love each one of them as an individual. It was Jake Anderson who nominated me, and he is a phenomenal kid who steps up in my class. He is a role model of what we want Deer Park to be. He's a tremendous student with a bright future."